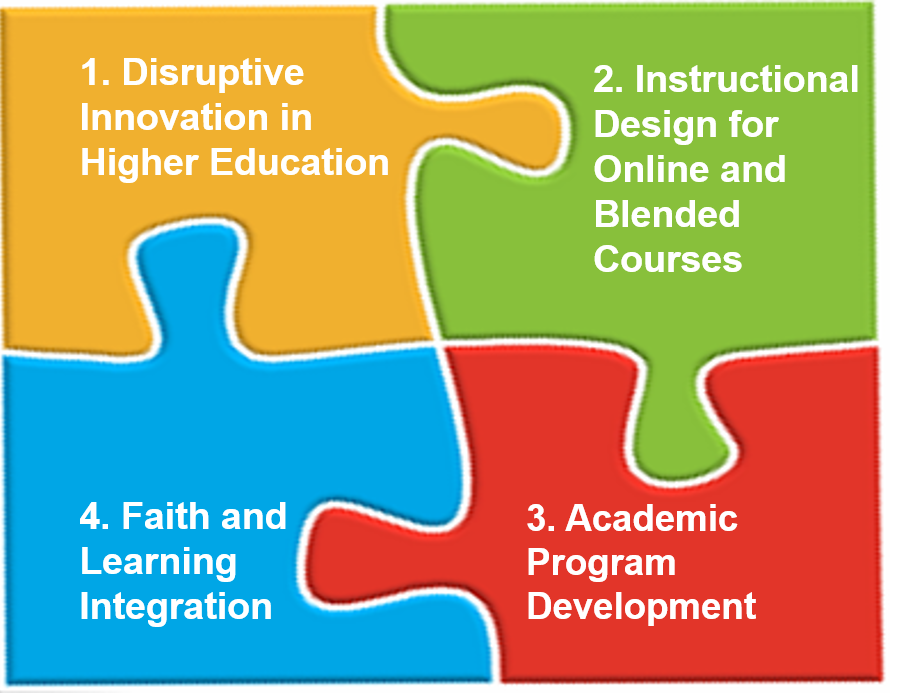 This is a part of a 4 course series supported by CHEIA.
---
Course Links and Description
In this course, you will complete the design of an online or blended course using best practices through the following steps:
Use our template to conduct analysis, research and planning for your course.
Design learning outcomes and use our template to design a course introduction and syllabus to meet accreditation standards.
Design each week of your course using our course blueprint template and use the OSCQR rubric to evaluate your course for best practices.
Design using latest technology, videos and screencasts to improve the engagement of your course.
Develop and publish your course in Canvas (or other system) based on the course blueprint you designed.
For those who come from Christian institutions, you will apply best practices to integrate a Christian worldview into course design.
This course builds on our first course Disruptive Innovation in Higher Education in Udemy and iTunes U, which now has had over 5,000 students. That course looked at the disruptive innovation challenge where higher education globally is expanding from 100 million students in 2000 to 263 million by 2025. While that course was focused on vision and strategy, this course is a very practical follow-up.
This course will be co-taught by myself and Dr. Michael Truong, who helps train others in instructional design principles at Azusa Pacific University, one of the largest Christian universities in America. We both also serve as co-founders of the Christian Higher Education Innovation Alliance, which sponsored this course.
There are several things that make this course unique compared to other instructional design courses.
First, this course is designed around constructivist learning philosophy so that you will learn instructional design through building a course.
Second, this course will provide very practical creative commons worksheets and templates for you to use and reuse in building your courses. We designed this course so that smaller schools could use this course or the templates we provide as a faculty training program for smaller institutions to equip their faculty to design online and blended courses
Third, this Udemy course has the exact same materials as the accredited Instructional Design course provided by City Vision University, and we are giving it away for free.
---
Course Materials
Lesson 1. Analyze: Course Design Process, Research and Planning
Resources for this Course
ADDIE, SAM and the Instructional Design Process (required)
Required Materials: Course Evaluation Rubrics and Course Design Templates

Watch
Read
Other Course and Program Design Rubrics (optional)

Optional Resources for Course Design Process, Research and Planning

Websites for Online Education Best Practices
Lesson 2. Design: Writing Effective Learning Outcomes & Faith Integration
Required Materials: Learning Outcomes and Academic Faith Integration – Those not interested in faith integration resources may skip those below.
Optional Resources: Learning Outcomes and Academic Faith Integration

Learning Outcomes and Bloom's Taxonomy
Academic Faith Integration
Lesson 3. Designing Course Syllabus and Course Introduction in LMS
Best Practices for Design of Syllabi and LMS Course Introductions (required)

Watch
Read
Example Syllabi
Optional Resources
Lesson 4. Developing the First Learning Unit (or Week's materials) for Your Course
Required Materials: Design Your First Learning Unit
Optional Resources: Design Your First Learning Unit for Your Course
Lesson 5. Designing for Blended Learning Environments
Designing for Blended Learning Environments (required)

Read
Watch

Blended Learning with edX Course (optional). While this resource is optional, if you are doing a blended course, we highly recommend you take this excellent course.
Lesson 6. Designing with Instructional Technology, OER, Videos and Screencasts
Lesson 7. Developing Your Course in a Learning Management System
Read: Canvas Instructor Getting Started Guide
Watch: Canvas Video Training
Lesson 8. Finalizing Your Course