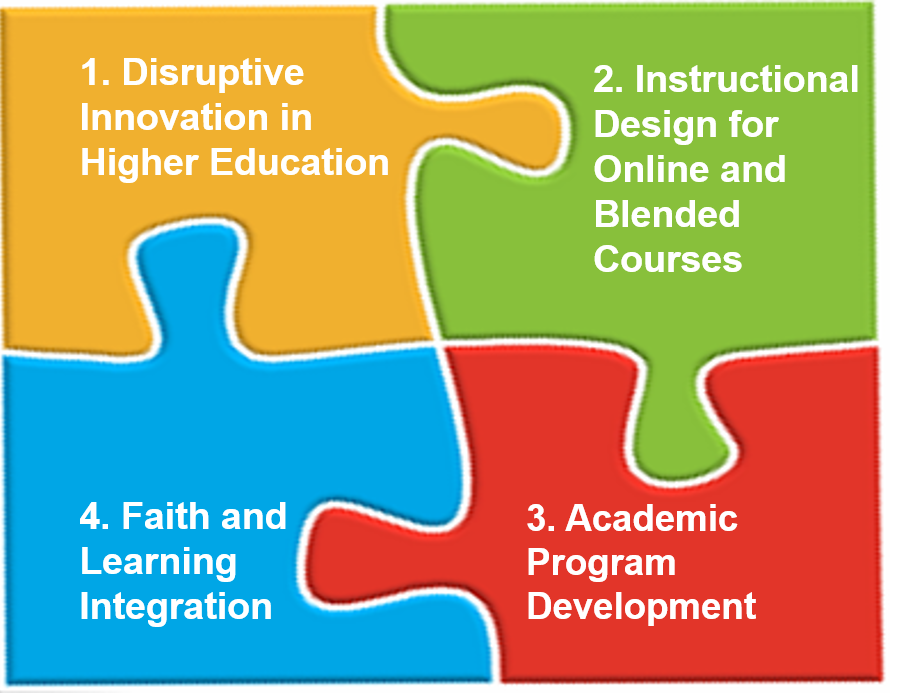 This is a part of a 4 course series supported by CHEIA.

Course Links and Description
This course provides the latest expertly curated materials on this topic by a university president focused on disruptive innovation who spent years developing them. I (Andrew Sears) have tried to curate the "best of the best" of materials in this field including: unbundling universities, unbundling faculty, online education, emerging markets, Base of the Pyramid strategy, Lean Startup for education, Blue Ocean Strategy for education, accreditation, for profits and MOOCs and examining implications for specific markets like faith-based/Christian higher education.
After completing this course, you should be able to:
1) explain how the forces of disruptive innovation are affecting their organization's context,
2) apply models such as Lean Startup, Blue Ocean Canvas, Porter's Five Forces and the Dual Transformation model to their organization's context, 3) develop a strategy presentation on how their institution should respond to the forces of disruptive innovation using the Dual Transformation model and other models.

The course has had over 5,000 students from 126 different countries.
Course Materials
Lesson 1. Course Introduction
Lesson 2. Disruptive Innovation Theory Applied to Higher Education
Lesson 3. Understanding What's Driving Change in Traditional Higher Education
Lesson 4. Market Dynamics of Online Education
Lesson 5. Innovative Models for Blending Unaccredited and Accredited Education
Lesson 6. Disruptive Innovation in Christian Higher Education
Lesson 7. Disruptive Innovation and Crossing the Chasm
Lesson 8. Emerging Markets and Bottom of the Pyramid Strategy
Lesson 9. Unbundling and Rebundling Strategies in Higher Education
Lesson 10. Unbundling & the Changing Role of Faculty
Lesson 11. Lean Startup Methodology for Education
Lesson 12. Demographic and Economic Trend Analysis for Higher Education
Lesson 13. Access, the Opportunity Divide & the Race Between Technology and Education
Lesson 14. Industry Case Study and Media Ecology Lessons for Faculty & Higher Education
Lesson 15. Change Agents and Diffusion of Innovation