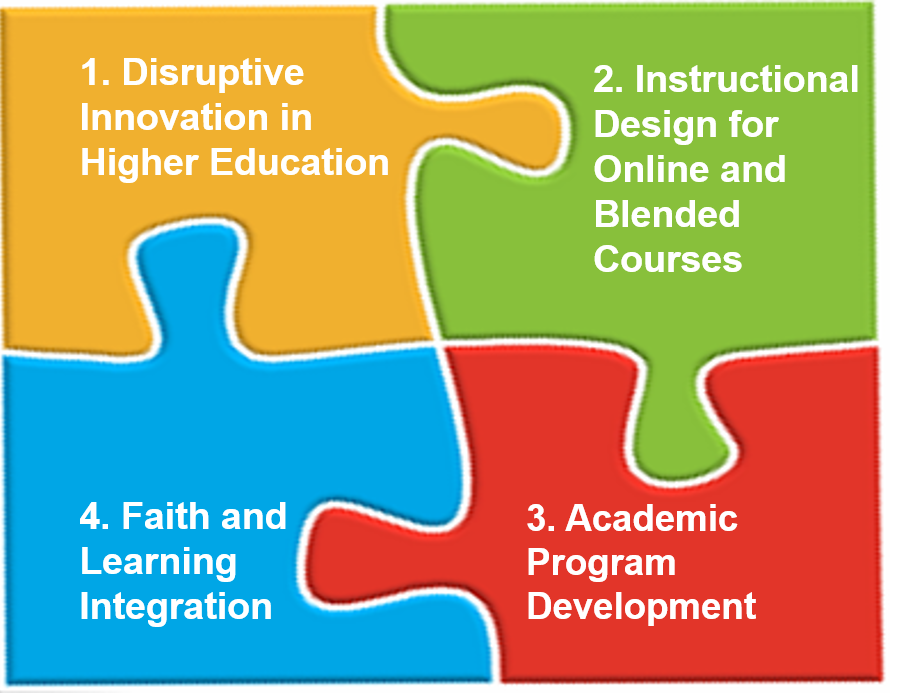 This is a part of a 4 course series supported by CHEIA.
---
Course Links and Description
This is a project-based course where the finished project will be develop an academic program. In this course you will learn to:
Design courses in Udemy (or in an unaccredited organization) for academic credit
Design an effective higher education academic degree or certificate program
Collect stakeholder feedback and conduct online research of similar programs to determine effective program design
Develop program outcomes and an outcome map to courses
Develop values integration for those in Christian higher education, ministry, missions agency or churches providing high-quality unaccredited, semi-accredited and non-formal education
Apply lean startup principles and agile methods to academic program design to adapt to resource-constrained environments
Complete the documentation needed to submit an academic program for review to an accreditor (or design program documentation to support alternative methods to accreditation in contexts where that is needed)
This course builds on our first course Disruptive Innovation in Higher Education in Udemy and iTunes U, which now has had over 5,000 students. That course looked at the disruptive innovation challenge where higher education globally is expanding from 100 million students in 2000 to 263 million by 2025. While that course was focused on vision and strategy, this course is a very practical follow-up.
---
Course Materials
Lesson 1. Introduction to Academic Program Development and Accreditation
Resources for this Course
Lesson 2. Innovative Models in Program Design
Lesson 3. Introduction to Program Design and Assessment
Lesson 4. Academic Program Needs Analysis and Research
Academic Program Needs Analysis and Research Materials

Samples of Needs Analysis and Research Using the Template from This Course. View the tabs for Needs Analysis and Research Comparable Programs.
Developing an Effective Program Needs Analysis (PowerPoint Slides)
Sample Needs Analysis Reports for Large Institutions
Optional

Materials for General Education, Institutional Outcomes and Standards

Sample Research Compiled for General Education and Institutional Learning Objectives
National and International Standards
Lesson 5. Writing Effective Program Outcomes & Faith Integration
Materials: Writing Effective Program Outcomes
Faith Integration Materials

Those not interested in faith integration resources may skip those below.
Read
Watch
Samples of Faith Integration in General Education and Institutional Learning Outcomes
Spiritual Assessment Tools
Optional
Books of Faith Integration in Learning
Lesson 6. Developing Curriculum Maps & Assessment Plans
Materials: Developing Curriculum Maps

Read

Curriculum Mapping: Mapping Learning: A Toolkit. National Institute for Learning Outcomes Assessment. (pdf and examples)
Sample Program Outcomes Curriculum Maps, Assessment Plans Using this Course's Template

Optional MOOCs

Materials: Developing Program Assessment Plans

Read
Optional (review a few of these)
MOOCs & Free Courses
Lesson 7. Developing Program and Course Improvement Processes
Required Materials: Course and Program Evaluation Rubrics

Watch
Read

Course Evaluation Rubrics
Program Evaluation Rubrics

Other Course and Program Design Rubrics (optional)
Lesson 8. Preparing Your Program for Accreditation
Support Materials for this Section

DEAC101 Preparing for DEAC Accreditation. This is a free course that helps organizations prepare accreditation of online programs. While the focus is on DEAC accreditation in the US, the principles would apply to most accreditors.